Profile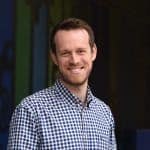 Eugene Gardner
My CV
Current Job

Postdoctoral Fellow (2017-Present)
Wellcome Trust Sanger Institute, Lab of Dr. Matthew E. Hurles, FMedSci
Study of structural variation in developmental disorders and human populations using whole genome, whole exome, and microarray sequencing approaches.

Employer

Wellcome Sanger Institute, Hinxton, Cambridgeshire, UK

The Wellcome is a world-leading genomics and genetics institute affiliated with the University of Cambridge. We study everything from the animals of the British Isles (Tree of Life Programme) to Cancer to kids with disability.
The most exciting thing that's happened this year in my research area:

The ongoing use of polygenic scores to determine how your genes play a role in many different complex traits like height, educational attainment, and risk of cancer. And then the study that talked about selecting these traits from embryos showing that it won't do much!

My latest work:

I focus on the diagnosis of children with rare developmental disorders (DD) as part of the Deciphering Developmental Disorders (DDD) study. Approximately 45% of patients in DDD have a single base change compared to their parents that explains their condition. My work involves trying to find diagnoses for the remaining 55% in two different ways. The first involves identifying changes in DNA that are different compared to their parents, but in my case, I look for very large parts of the human genome that are completely gone. The second is by trying to understand how changes children inherit from their parents could cause their disorder. Interestingly, some individuals also carry changes that, if observed in our patients, would be considered likely causative. I am currently working to understand how are these healthy individuals are "protected" from showing the same symptoms as our recruited patients and if they can help us to understand the genetics of our remaining DD patients.

My favourite misconception about my area of science:

That traits are 100% genetics or 100% environment. Everything about us is a mix of genetics and our individual circumstances. From how tall you grow to your risk of certain diseases, there is a complex mix of your genes and how you live your life merging to determine who you are.

My profile link:
https://ias.im/u.235241
---