Profile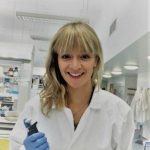 Rebecca Shaw
My CV
Current Job

Research Technician at the University of Aberdeen.
My role is rotational; I work in various research groups assisting the researchers with their projects. This allows me to learn a lot of new laboratory techniques, understand new concepts and meet loads of new people!

My past work has looked into:

Salmonella and how the bacteria that causes salmonella combats the bodies defence system,

arthritis and the cellular mechanisms involved in the inflammation associated with the disorder and

identifying fungal pathogens and how good they are at infecting people.

Employer

I work for the University of Aberdeen and I am based in the Institute of Medical Sciences on their campus next to the hospital. I work with professors, post doctoral professionals, doctors, students and technicians.

A lot of the researchers' work can be transferred into clinical medicine and that is why our building is based next to the hospital.

Our University won Scotland's Best University of the Year in 2019 and has great biological sciences, dentistry, medicine and natural sciences departments.
The most exciting thing that's happened this year in my research area:

Scientists have worked on creating a tool that could edit bad mutations in DNA that cause diseases. They could 'fix' these mutations more specifically than they could before to prevent genetic diseases that are harmful to people and their children! 🧬 🧪

My latest work:

I've been working on looking at the genes involved in the development of eyes 👀 and also looking at what genes are involved when things go wrong with eye development. Our eyes are so important and so it's important to understand why sometimes they don't work very well!

My favourite misconception about my area of science:

My favourite misconception is that my friends think I made hybrid animals in my lab or that my work is similar to that of Jurassic Park! It is definitely not and  I have not been responsible for making any genetically engineered 🦖 🦕

My profile link:
https://ias.im/u.234994
---